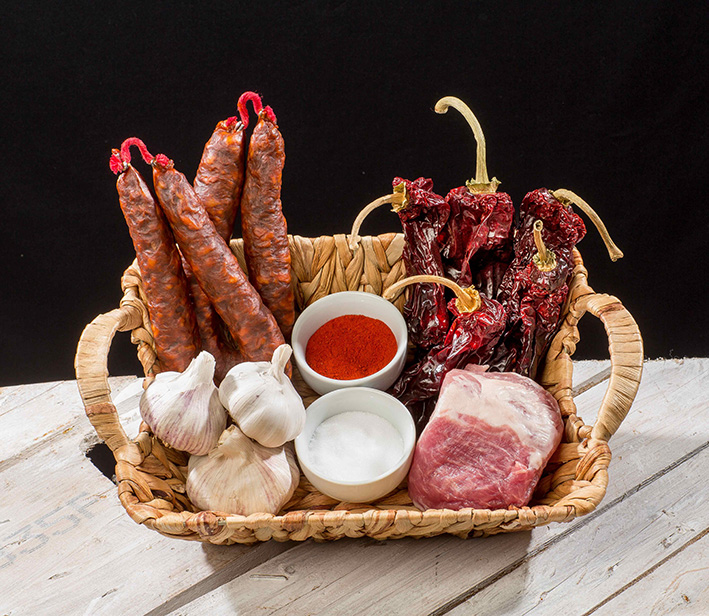 Lean meat and top quality paprika, salt, garlic and natural pork casings are the necessary ingredients to make the traditional Chorizo Riojano. It's that simple, that natural.
La Rioja is universally known for being "the land with the wine name" and coupled with its wine-making tradition is its gastronomic tradition. The development of Chorizo Riojano in La Rioja dates back to the origin of our times.
This is due to the geography of the region and its rugged orography, with two mountain ranges that border it to the north and the south, creating an exceptional dry, cold micro-climate for curing and conserving any pork products.
To safeguard product excellence, it is protected by the Chorizo Riojano PGI, promoted by the Government of La Rioja that serves to ensure the authentic taste of the chorizo produced in La Rioja.
This chorizo can be distinguished from others by its mild, aromatic, slightly spicy and piquant flavor and its intense red color. Likewise, on the palate Chorizo Riojano has a very balanced texture, is easy to chew and very juicy.
Chorizo Riojano is a very well-received traditional product, given its inimitable organoleptic characteristics, and clearly differentiated from others thanks to its traditional elaboration method which has been characteristic of the region since ancient times.
Meet the certified companies: www.chorizoriojano.org