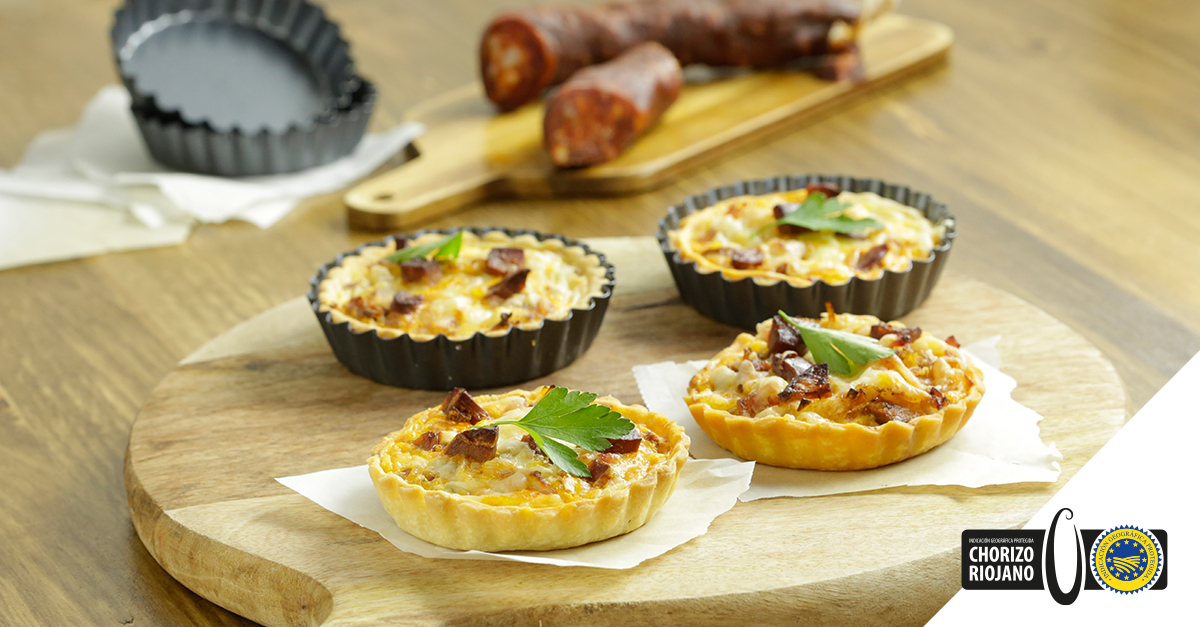 Enjoy one of your favorite ingredients in a different, tasty way that will be appreciated by kids and grown-ups alike. Oh, you can surely innovate in your kitchen with Riojan chorizo, stepping away from the traditional chorizo recipes known by all. If you have already tasted our delicious chorizo-stuffed mushrooms, this mini-quiche will not let you down either. You are sure to win over everyone with this appetizer in that pending dinner among friends or your upcoming birthday celebration. Besides, its "mini" size is perfect for all members of the family to enjoy it in an easy, comfortable fashion. Whether this is your first try at quiche or whether you are already a seasoned expert, this one is sure to make it into your top scores list—guaranteed. Let us go about preparing it!
Surprising chorizo recipes
Quiche is a salty pie of French origin ("quiche lorraine") which originally consisted of dough, cream and eggs. With time, bacon or 'panceta' was added. Today we find it with endless ingredients—there are as many combinations as your imagination lets you run away with. It can be eaten warm or cold. It is up to you! It is delicious either way.
In order to find a unique, special touch of taste, we have come up with these mini-chiques with IGP Riojan chorizo. This in an ingredient that we keep today same as our elders did: hanging from a nail in a cool, dry, well ventilated place such as a terrace or a larder, always handy and always well kept. Admit it: it is not difficult to reach for it… now dare using it differently! The truth is, cooking with quality ingredients like Riojan chorizo is an added asset and a sure bet, as long as quality is guaranteed by the seal "IGP Chorizo Riojano". Follow these steps to prepare these chorizo mini-quiches and make ready to win wherever you serve them.
Recipe: Chorizo mini-quiche
PREPARATION TIME: 20 minutes
DIFFICULTY: Easy
SERVINGS: 4
INGREDIENTS:
250g Riojan chorizo
1 spring onion
100g bacon cut in strips
180g Maasdam cheese
2 beaten eggs
100ml liquid cream
Salt to taste
Freshly ground pepper
1 sheet of short pastry
DIRECTIONS:
1.  Spread the short pastry if necessary and place in the recesses of a round pastry mould.
2. Prick with a fork and lay some weight over it. Bake at 356ºF (180ºC) for 8-10 minutes. Remove from the oven and set aside.
3. Sauté the chopped spring onion, the bacon strips and the chorizo cut in half slices (i.e. in crescents). Set aside.
4. Beat the eggs, mix with the cream, and add salt and pepper to taste.
5. Place the chorizo and the bacon in the bottom of each mini-quiche, cover with the mixture of cream and egg, and top up with cheese.
6. Bake at 390ºF (200ºC) for 10-12 minutes.