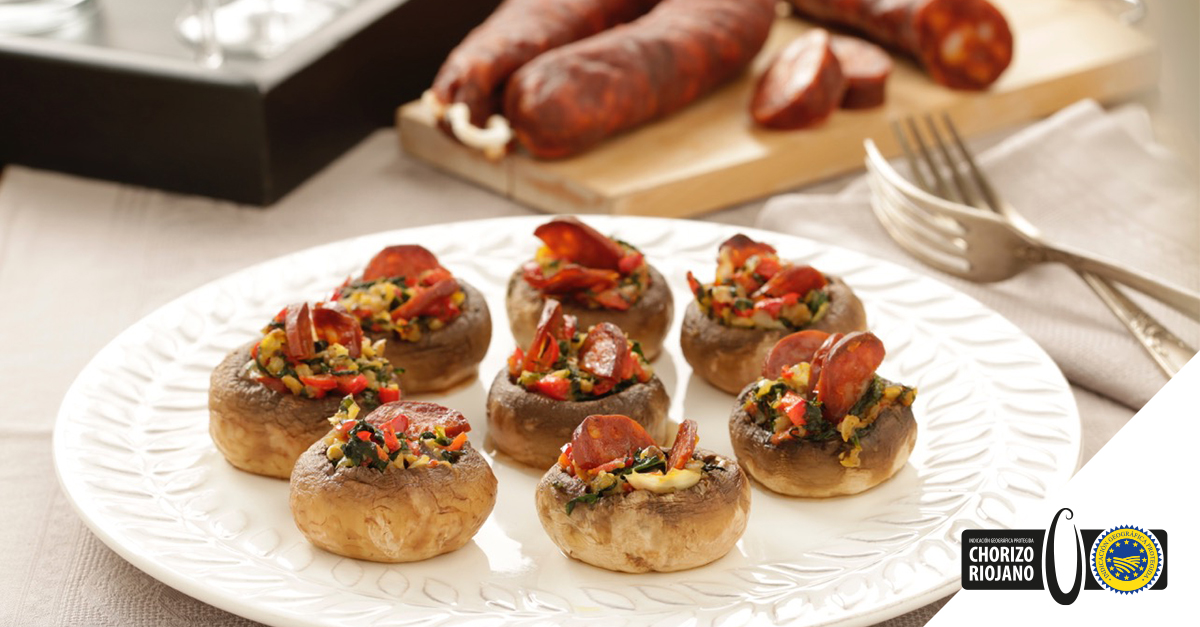 We tend to see chorizo play the main role in all kinds of stews—chickpeas, lentils, beans, and what not. But all it takes is a bit of imagination to come up with delicious chorizo recipes, and you can add it to any preparation, such as today's suggestion of baked mushrooms with chorizo, where our favorite sausage brings juiciness and taste to the plate.
Whenever one thinks of baked mushrooms, a generous lot of grated (and grilled) cheese comes to mind. But what if we switch from cheese to chorizo? The result will be a most delicious and tasty appetizer, thanks to a first-class Riojan chorizo.
Riojan chorizo and vegetables are a perfect match
All you need for this recipe is mushrooms, fresh vegetables and a good chunk of Riojan chorizo—but not just any Riojan chorizo, mind you! Look for the seal "IGP chorizo riojano", which acknowledges the product's Protected Geographic Indication for first-class cooking right at home. Like our suggested recipe: baked mushrooms with chorizo, the sausage being a perfect match for finely chopped vegetables sautéed in a slow fire. The mushrooms do not need a lot of oven time: 15 minutes are more than enough for our delicious Riojan chorizo to release its juices and soak the vegetables with a touch of taste.
Remember, a good Riojan chorizo is prepared with 100% natural, high-quality ingredients. If you want to taste the real deal, look for IGP-certified chorizo.
Recipe: Baked mushrooms with chorizo
PREPARATION TIME: 20 minutes
DIFFICULTY: Easy
SERVINGS: 4
INGREDIENTS:
50g Riojan chorizo
1 tablespoon extra-virgin olive oil
½ chopped onion
¼ diced red bell pepper
3 finely chopped garlic gloves
250g mushrooms
50g very finely chopped fresh spinach
1 handful chopped fresh parsley
DIRECTIONS:
1. Preheat the oven to 356ºF (180ºC).
2. Wash the mushrooms. Cut their stems and chop them finely.
3. Sauté the chopped garlic, together with the onion and pepper. Add the chopped spinach and the mushroom stems.
4. Add the parsley and continue cooking until spinach starts to sear. Allow the filling to cool a bit and add the chorizo cut in half slices (i.e. in crescents).
5. Stuff the mushrooms with the mix.
6. Bake for 15 minutes.