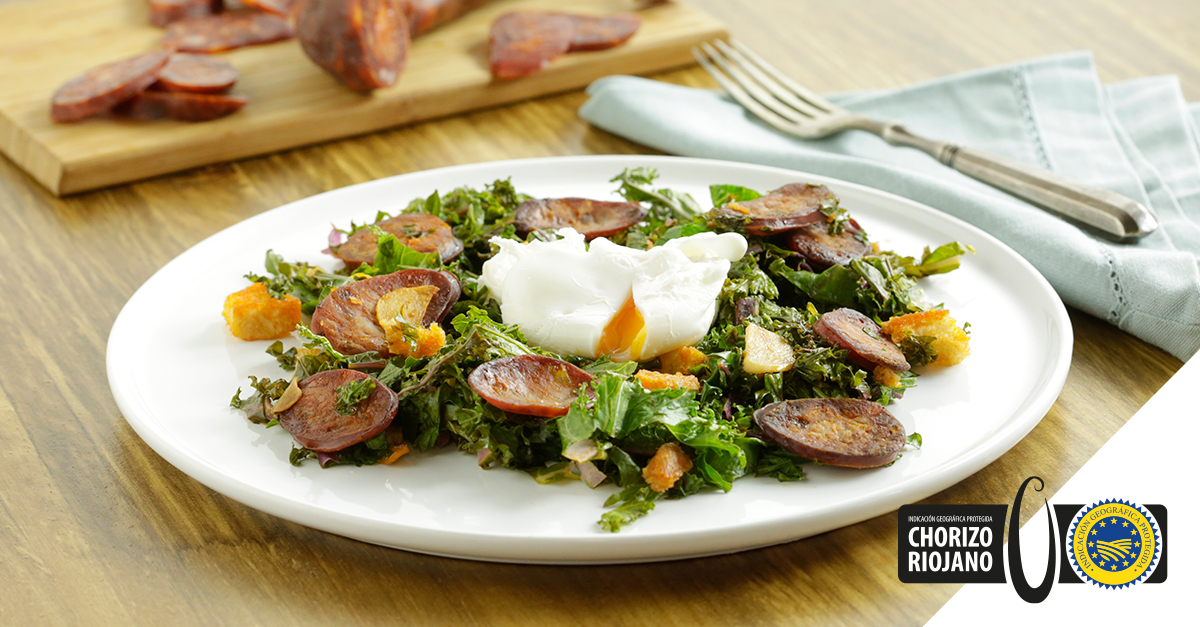 Riojan taste inspiration 
Together with the traditional, old school recipes, where the true taste of IGP Riojan chorizo displays its charm in full, we also like to share new creations that are inspiring innovative uses and surprising combinations. 
IGP Riojan chorizo is so versatile that the recipes where it plays the main role are endless. We have already shared some examples! We know you loved our stuffed potatoes with Riojan chorizo, the Riojan chorizo mini-quiche and the chorizo-stuffed mushrooms—and now we are introducing a recipe to tasty and light that it is sure to find a place among your favourites.
A winning combination: Kale and IGP Riojan chorizo
Kale is a kind of leaf cabbage that is highly beneficial and has become quite popular in recent times. It is remarkable for its low caloric value and for being rich in minerals (iron, calcium, magnesium, potassium) and vitamins (C, E, A, K). All in all, it makes a perfect companion for all kinds of food—including, of course, a winning combination with our very own IGP Riojan chorizo, produced with 100% natural ingredients, a careful choice of pork loin spiced with the finest paprika, fine dry salt and garlic. Need proof? Well then, below is a super-tasty mix of flavours that does not take long to prepare and is truly mouth-watering.
Go ahead and try! And from La Rioja…bon appétit!
PREPARATION TIME: 30 minutes
DIFFICULTY: Low
SERVINGS: 4
INGREDIENTES:
150g Riojan chorizo
1 slice of crusty bread
300g kale
3 garlic cloves
2 eggs
2 spoonfuls of sherry vinegar
Extra virgin olive oil
ELABORACIÓN:
1. Cut chorizo in slices and cook in a pan until it starts to release its juice.
2. Add the sliced garlic cloves and the bread cut in small pieces. Cook for another minute.
3. Add kale and cook for some more minutes, or until the cabbage is slightly softened.
4. Add vinegar and season with salt and pepper.
5. In the meantime, poach the eggs in a potful of water with a dash of vinegar.
6. Serve with a poached egg on top.