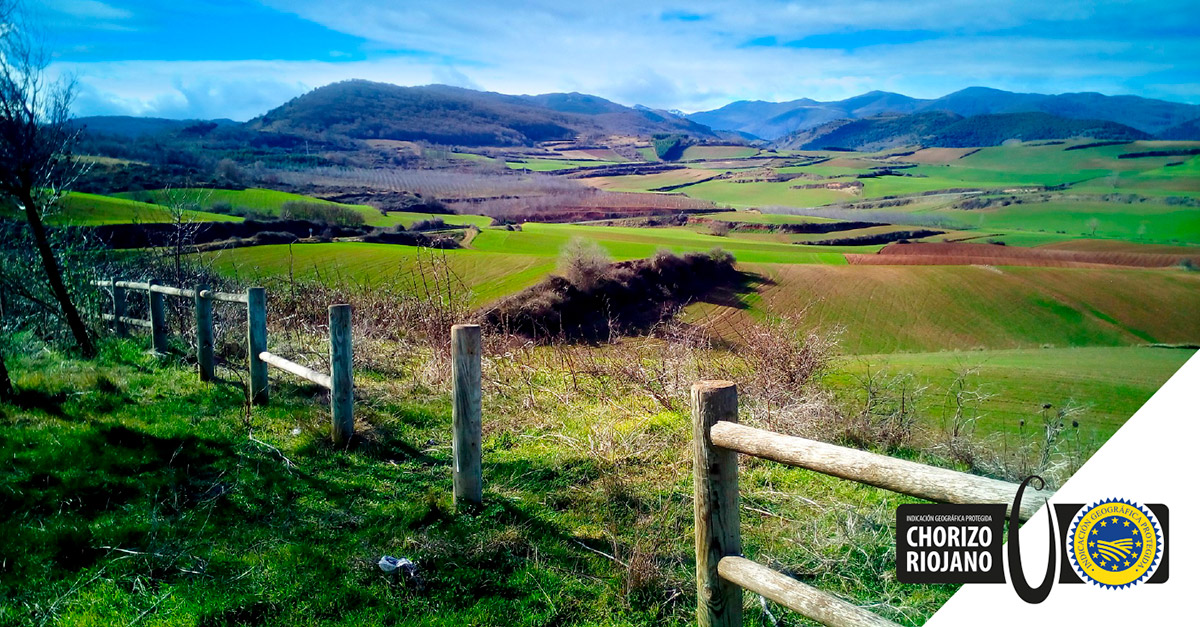 There is little doubt that gastronomic treasures like Riojan wine and chorizo are the best La Rioja ambassadors. Such long standing products, however, cannot be set apart from their birthplace, and that is why it is so much worth it to go deep into La Rioja and find out the secrets of a land whose abundance of worthy corners is a source of constant surprise. Follow us in this Riojan adventure and find out why this is the perfect destination to enjoy this one‑of‑a‑kind natural scenery, whatever the season. Care to join us?
A small region from the outside—a whole world within
La Rioja may be one of the smallest autonomous communities in Spain, but size does not matter when it comes to variety of landscape. This land is the meeting point of the Mediterranean and the Atlantic climates, with unique natural conditions for the unfurling of a gorgeous nature. Fields and meadows, hills and valleys, snow-capped peaks and forests—we might mention the lack of a sea, but there are so many rivers bathing this wilderness that one is not bound to miss it.
Had The Lord of the Rings been shot in Spain, there is little doubt we would have seen elves running among the trees of La Rioja, our little own New Zealand. Yes, such is the variety of the scenery here that one can do anything: skiing in the winter, horse-riding among the vineyards, hiking your way through green valleys, or biking along flower-laden meadows. This wealth of landscapes and the mild temperature are perfect not only for the production of the authentic Riojan chorizo, but also for visiting every corner and soaking into nature.
Adventure, sports, nature, and culture
Such a place must be experienced firsthand, and La Rioja holds adventure to suit all tastes. The art of wandering will turn into a feast for your senses when you sink into some of the natural spots that dress this country green, such as the Sierra de Cebollera Park and the Sotos de Alfaro, protected areas of enormous ecologic and landscape value
Many are the hiking routes that can be combined with other activities, such as animal spotting or a visit to worthy historical places. The land of Rioja is sprinkled with Roman vestiges, Romanic hermitages, castles and monasteries—some are mandatory visits, such as the Suso and Yuso monasteries in San Millán de la Cogolla, both of which are World Heritage sites. Also, a visit to their renowned vineyards is a good idea, be it on a bike, on a balloon ride, or following any of the horse-riding routes set out by the winemakers themselves. Another reasonable option in this ancestral thoroughfare is to become a pilgrim and follow the traditional Camino de Santiago.
If you are rather into active adventure, you can try your hand at trekking through these forests and highlands or camping under the stars, surrounded by nature. Climbing, golfing, mountaineering, skiing—the sports offer is completed with a variety of water sports run in rivers, which are also a paradise for the fishing lover. And if all this is still not quite enough, you will find multi‑adventure circuits to put you to the test, suitable for every age. You can even have fun with dinosaurs, for did you know this region treasures some of Europe's most important paleontological sites?
Of course, you are bound to feel hungry after this wealth of activity. Luckily, no visit to La Rioja is complete without a taste of its amazing gastronomy. Whatever the road you choose, you will find a charming village with a pot in the fire to comfort the walker. It is not unusual to find traditional marketplaces celebrating regional products, where the mouth-watering flavour of ovens baking delicacies fills the streets to welcome the visitor. And if the traveler will choose to follow the classic "pincho" route in major cities like Logroño or Calahorra, they will also have a chance to fill up their packs for the road.
Needless to say, no muesli bars of hipster snacks here! In order to experience a real Riojan adventure, one must go with local, handmade products. And it does not get any more traditional than a good chorizo sandwich, prepared with real bread and authentic IGP Riojan chorizo—the perfect combination of tradition and taste. So, where is your next adventure taking you?